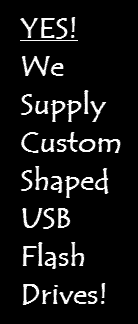 Did you know that we can provide custom shaped USB flash drives?
That's right, we offer flash drives that can be molded into almost any shape, design, logo or creation that you can imagine.
Most custom flash drives are manufactured using PVC material. The PVC is able to be color matched and molded into a unique and functional USB design.
Your custom USB idea can be created as a 2 dimensional molds or a 3 dimensional mold.
At Flash Drive Canada, we have very low minimums for getting a customized USB shape. The best pricing starts at around 250 units, however we can also provide quantities as low as 100 units, depending on the design and capacity.
If you have a logo, design or product that you want to turn into a custom shape USB, send it to us for a prompt quote and a free concept design.
Take a look at some of the PVC flash drive images below, to give you an idea of what can be done.
Why not add some marketing punch to your next USB project? Stand out from the crowd, with your own custom designed USB flash drives!